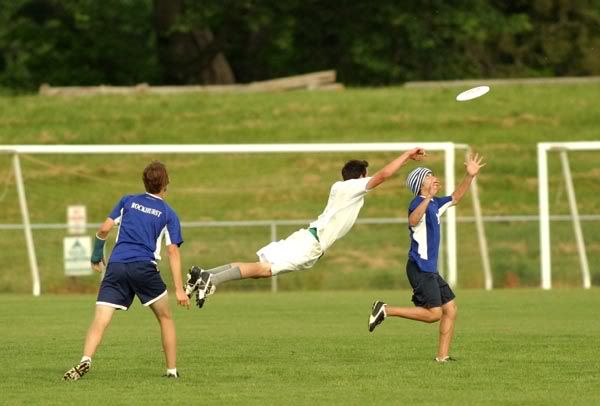 Name: Harrison Fast
Age: 17
Lives In: Englewood (Denver), CO
High School Team: Cherry Creek HS.
Where I First Heard of Ultimate: During my freshman year my sister starting playing Ultimate at Creek. This was the second year the program was running. Her and I started tossing on occassion (read: she threw to me and laughed at my forehands). Sophomore year I quit football for X-Country and started playing ultimate.
Years Playing the Game: Three.
Notable Accomplishments While Playing: Won the adult fall league tournament my first year. Organized Colorado's first fall tournament. Won the first annual East Invite. Third place at state in 2005 (sunday was the day after Prom). We went undefeated the first day. Quarters at GRUB 2005.
Favorite Tournament Played: HS Westerns 2005 or GRUB.
Involvement in Community: Captain of CCHS Ultimate. I've been trying my best to promote HS ultimate in Colorado as well as aide in organizing events.
Mentors or Role Models in the Sport: My first Hero in ultimate was Alex Nord. Watchign a few hilight videos of the Swede and viewing pictures of his incredible bids captivated me. So I'll have to go with that.
Ultimate Quote: (from IBB) Life is a journey, not a destination.